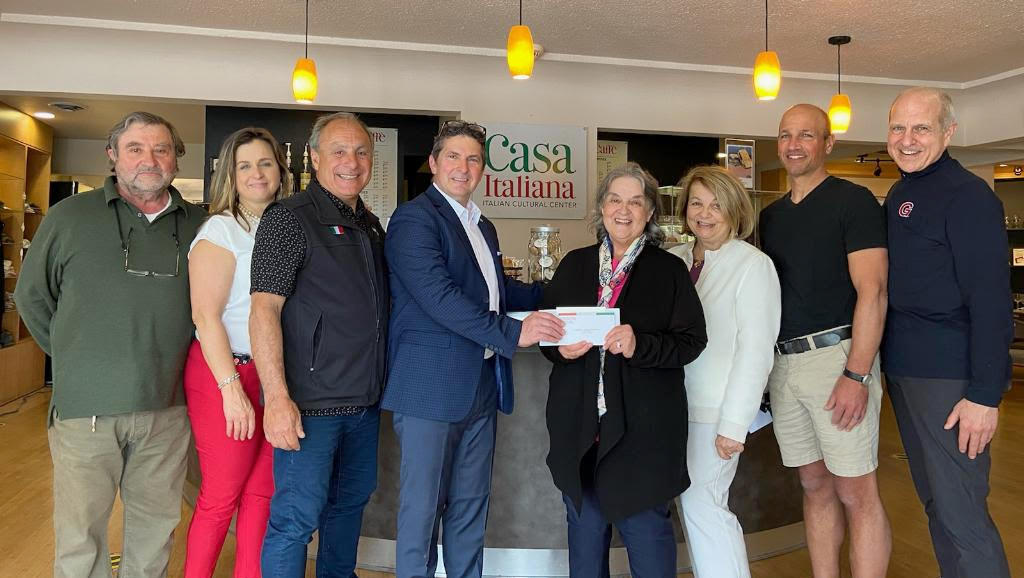 Pictured from left to right: Franco Tesorieri, Therese Bianchi, Joe Megale, Brian DiJulio,
Gloria Sauro, Dorene Centioli McTigue, Todd Biesold, and Gerard Centioli.
Casa Italiana received a Grand Benefactor-level Donation from the Centioli, Biesold, McTigue and Sauro families in memory of their matriarch and patriarch, Gill and Alma Centioli.
Gill Centioli brought quick service burgers and chicken to the Pacific Northwest with Gil's Drive-in and Kentucky Fried Chicken. The next generation followed with Pagliacci Pizza, Krispy Kreme Doughnuts and Maggiano's Little Italy.
The current generation continues to serve the Pacific Northwest today with Krispy Kreme Doughnuts, Merlino Foods and PICK-QUICK Burgers.
Gerard Centioli also joined our Casa Italiana Board of Directors where his experience and expertise will be beneficial to our future. The four family members were treated to prosecco, panini and biscotti at the Casa Caffè by four other Casa Board Members: Fundraising Chair Brian DiJulio, Co-chair Therese Bianchi, Facilities Chair Joe Megale and Italian Library Chair Franco Tesorieri.
The photo above shows DiJulio accepting the Centioli gift of $50,000.00 to Casa Italiana, one of the largest gifts received since the 501(c)(3) was created back in October of 2020.
Please consider joining the Centiolis with your own gift in support of Casa Italiana, by going to the link below.
Grazie mille.