On Saturday, May 29, 2021, Casa Italiana – Italian Cultural Center, was honored by the presence of Lorenzo Ortona, Consul General of Italy – General Consulate of Italy, San Francisco, along with other dignitary guests, for the inauguration and blessing of the Center. 
A small, private gathering* was held on the Casa grounds, followed by a tour of the interior Café, historical display, library and meeting/event rooms. Speeches full of pride and pleasure acknowledged the realization of a long-held dream and the tremendous efforts expended to bring it to fruition. 
Franco Tesorieri, Honorary Consul of Italy (1998-2018), was recognized by the President of Italy, Sergio Mattarella, in absentia, for his long and devoted service representing the Republic of Italy. He was awarded the honor of Cavaliere dell'Ordine della Stella d'Italia (Knight of the Order of the Star of Italy).
Completing the ceremony was a blessing of Casa Italiana by Fr. Paul Magnano, Parish Priest in Skagit Valley Catholic Churches.
Complimenti to all for the hard work that went into creating the masterpiece that is Casa Italiana. The site has truly been transformed by many capable hands in the 6 months since purchase.
*In compliance with COVID-19 guidelines, the gathering was limited to a small, socially-distanced group, but we look forward to welcoming all as the restrictions are lifted.

Reflection by the Consul General of Italy
"Today has been a day we have been awaiting for a long time, and it is even more special after this difficult long pandemic year. The Italian American community in Washington State and the Honorary Consulate of Seattle now have, respectively, a home and an office and we cannot wait to participate in all the wonderful events that will be organized by Casa Italiana in the years to come.
"I am sure it will be a great experience to be assisted by Honorary Consul Elisabetta Valentini while maybe stopping at the café for an espresso or be able to browse at the local Italian library.
"Well done to the Italian American Community of the State of Washington and thank you to all the donors that made this dream possibile. The Italian Consulate General in San Francisco is committed more than ever to support our wonderful community in Washington State."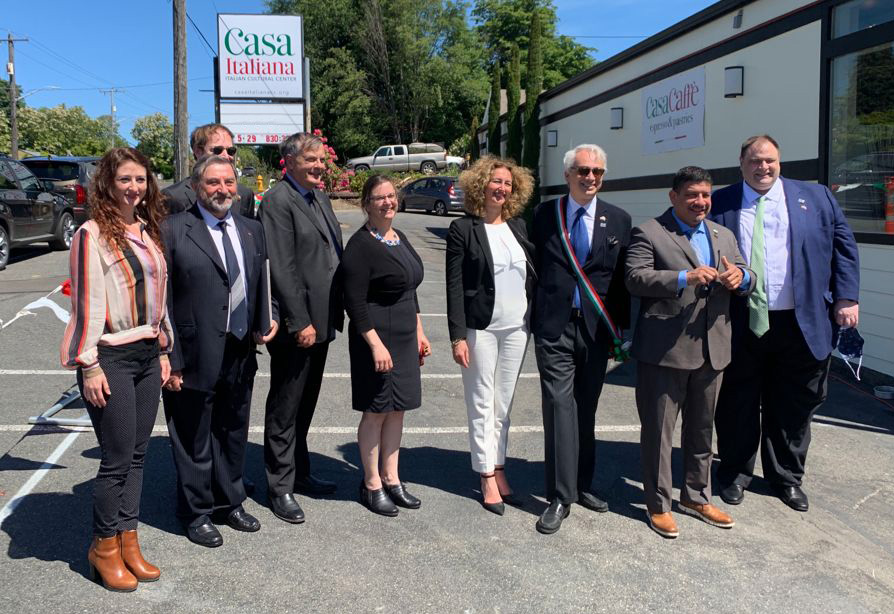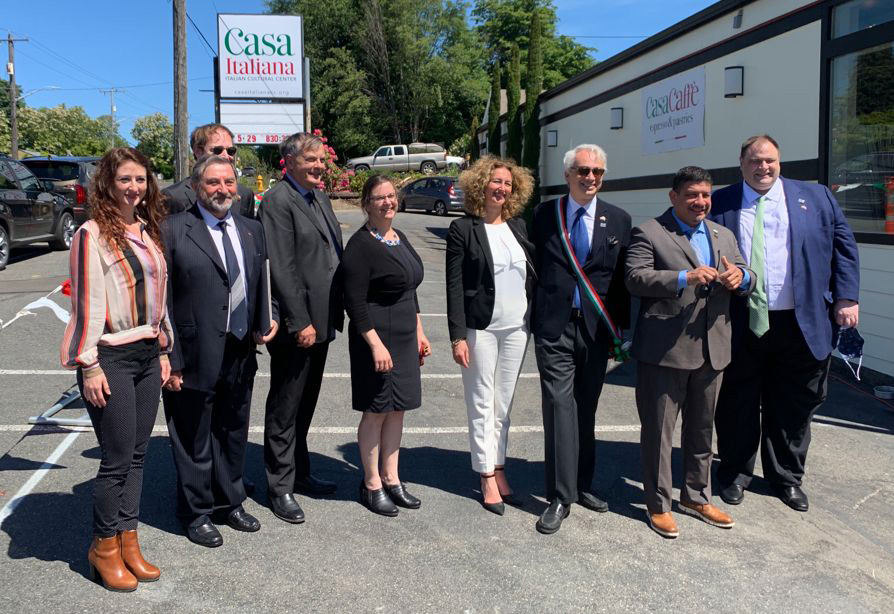 Some of the dignitaries in attendance at the Casa Italiana Inauguration (left to right): Francesca Morabito (representative of the Comites, San Francisco), Franco Tesorieri, Fabio Massimo Ballerini (standing behind), Schuyler F. Hoss, Stacey Jehlik, Elisabetta Valentini, Lorenzo Ortona, Jimmy Matta, Martin Nigrelle.
Official Guests
Lorenzo Ortona, Consul General of Italy – General Consulate of Italy, San Francisco
Fabio Massimo Ballerini, Consul of Italy – General Consulate of Italy, San Francisco
Elisabetta Valentini, Honorary Consul of Italy, Seattle
Schuyler F. Hoss, Director of International Relations and Protocol, State of Washington
Franco Tesorieri, Honorary Consul of Italy (1998-2018)
Katalin Pearman, President of the Consular Association of Washington, Honorary Consul of Hungary
Jimmy Matta, Mayor of Burien
Stacey Jehlik, International Affairs Director, City of Seattle
Andrea Reay, President/CEO of Seattle Southside Chamber of Commerce
Hosts
Casa Italiana Board of Directors:
Martin Nigrelle, President
Brian DiJulio, Vice President
Audrey Manzanares, Secretary
Jeff Vert, Treasurer
Therese Bianchi
Gerard Centioli
Tom Grossi
Gennaro "Jerry" Mascio
Joe Megale
Joyce Morinaka
Franco Tesorieri
Casa Italiana's Mission
To host a wide variety of cultural, educational and historical activities to serve the Pacific Northwest community.
To preserve the rich traditions of Italian culture by sponsoring classes, culinary and social events, and mentoring programs.
To showcase the contributions made to the world by Italians, and honor their legacy.
To be the center of activities for the Italian community in partnership with the Consulate General of Italy in San Francisco.