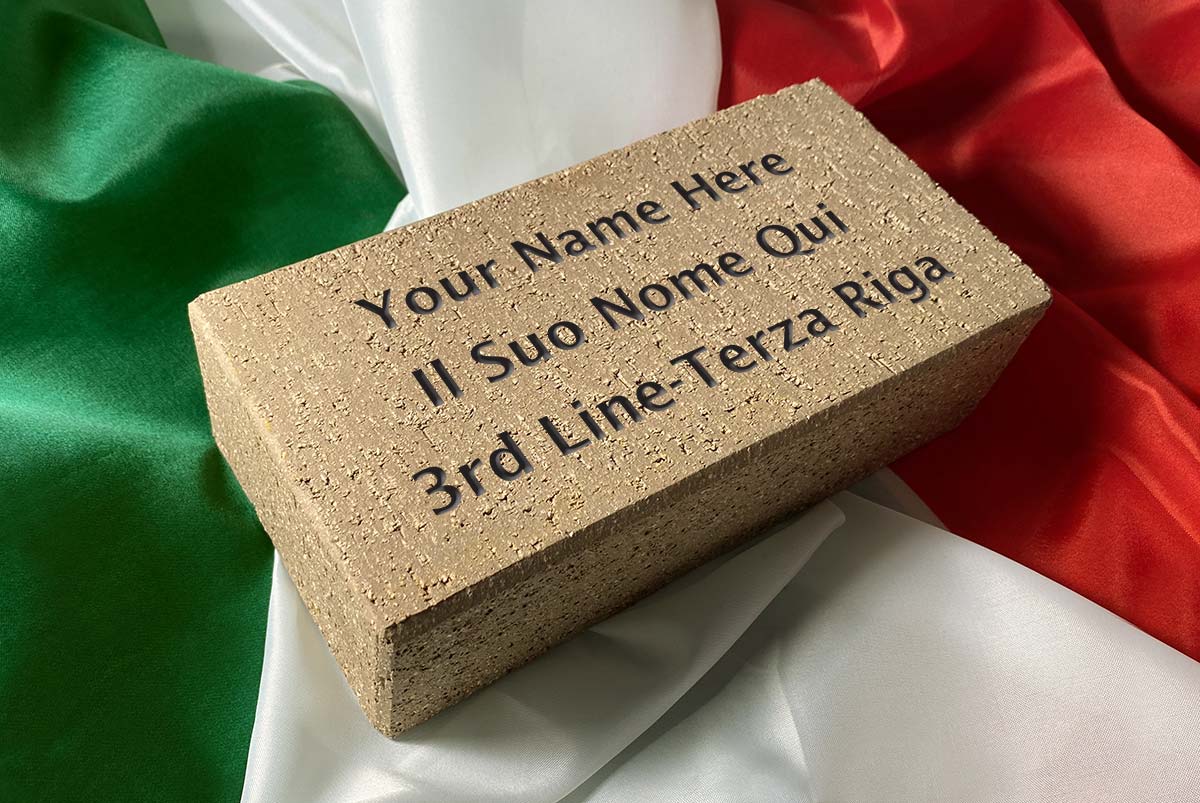 "Piazza del Popolo" – The People's Plaza
Conceptual drawing of the Casa Italiana Piazza del Popolo.
(Click to expand the image.)
Help Casa Italiana Build Its Piazza
Imagine… una grande Piazza del Popolo, "The People's Plaza" where friends gather for community, music, food and festivity, on pavers filled with the names of those that support Casa Italiana. Your name… your family's name, could be etched into that piazza. 
Brick-by-Brick Details
Purchase an engraved brick in your name, the names of family and friends… in celebration of a birth, graduation, wedding, anniversary or other special event.
Time Period: The Casa Piazza Brick Fundraiser runs Oct. 1, 2021 through Feb. 28, 2022. Groundbreaking for the Piazza is expected to begin in the Spring of 2022.
Cost for 1 Brick: $100, Tax-deductible donation.
Inscription: 3 lines of text, 20 characters per line (including punctuation and spaces), laser-etched. Inscriptions may be in English or Italian, and will appear exactly as you type/write them.
Order a Brick for Casa's Piazza del Popolo
Online Brick Purchase
Click on this link, fill out the online order form and make your payment. www.fundraisingbrick.com/online-orders/casapiazza
Buying multiple bricks: As part of the brick company's fulfillment process, if you would like to order more than one brick you will need to fill out a new online order form for each brick that you would like to order.
Proofreading: The three engraved message lines will be created exactly as you type them, whether in English or Italian. Please proofread very carefully. (Keyboard generated characters, such as accents, are allowed, but no emojis.)
Payments: Visa/MC, Amex, PayPal
Pay Pal: bricks@casaitalianacc.org 
On-Paper Brick Purchase
Click on the page pictured at right, print it, fill out the order form on the back and return it with your payment.
Buying multiple bricks: If you would like to order more than one brick, make/print  copies of the form for each brick desired. Staple the forms together and mail them with your payment.
Proofreading: Please print very clearly. The three engraved message lines will be created exactly as you write them, whether in English or Italian. Please proofread carefully. (Keyboard generated characters, such as accents, are allowed, but no emojis.)
Make Checks Payable to: Casa Italiana
Mail the form and payment to:
Casa Italiana
13028 1st Ave S., Burien WA 98168